Flygning 2012-08-09
Bilderna är tagna av Eva Olsson.
| | |
| --- | --- |
| När | 2012-08-09 |
| Var | Råggärd - Östby |
| Pilot | Kenneth Olsson |
| Crew | 7 |
| Flygtid | 45 minuter |
Du kan se flygning i Google Earth eller i Google Map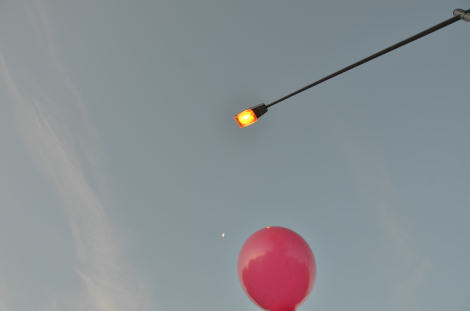 Vid 06.30 på morgonen så blev väderballongen (heliumfylld vanlig ballong som uppe i luften visar riktning och fart som luftballongen sedan kommer att ta) belyst av både gatlampa och månen.
At 06.30 in the morning, the weatherballoon (a normal balloon, filled with helium, released to see the direction and speed of the winds) was illuminated by both the streetlight and the moon.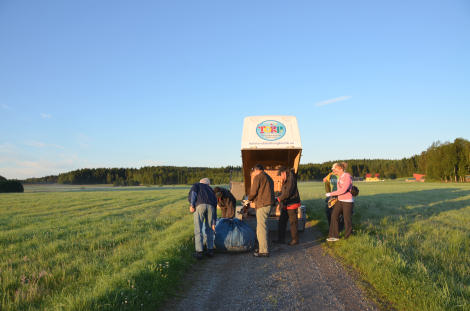 Kenneth som var dagens pilot bestämde att Ängen i Råggärd skulle bli en lämplig startplats. När vi kom dit så var det på med handskar och börja packa fram ballongen ur släpkärran.
Kenneth who was the pilot for the day decided where it would be suitable to start. When we arrived gloves were equipped and we started unpacking the balloon from the trailer.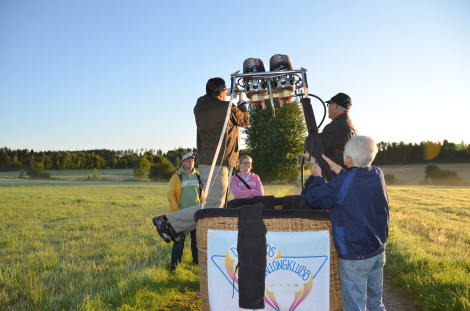 Tillsammans riggades ballongen i ordning och Kenneth testade brännare med mera.
The balloon was made ready and Kenneth tested the burners etc.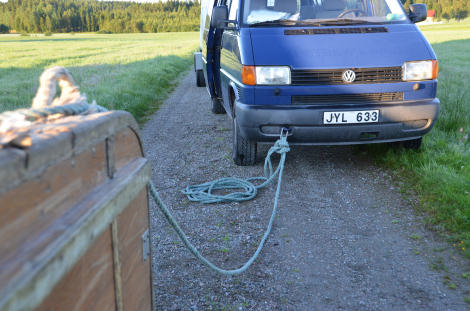 Ballongen förankrades i bussen med ett stadigt rep.
As a safety measure the balloon was anchored to the minibus with a sturdy rope.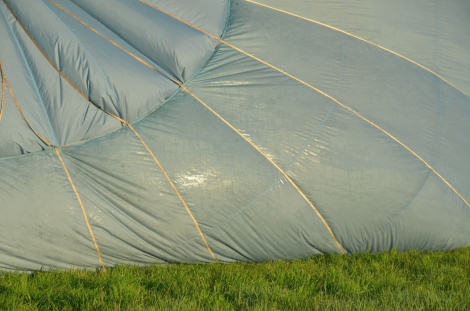 Med hjälp av en kallfläkt fylldes höljet med luft. Det morgonblöta gräset gjorde även ballonghöljet blött, men det skulle torka med hjälp av den varma luften under flygningen.
With a fan the envelope was filled with cold air. The morning dew in the grass made the envelope wet but it would dry from the hot air during the flight.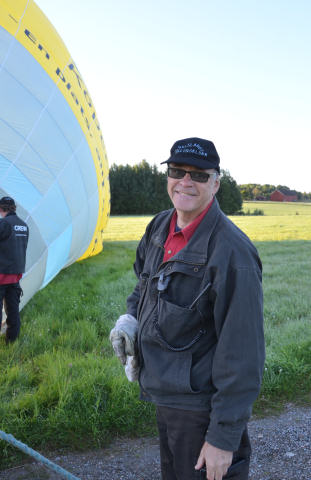 Kenneth såg riktigt glad och nöjd ut inför flygningen.
Kenneth looked pleased to go flying.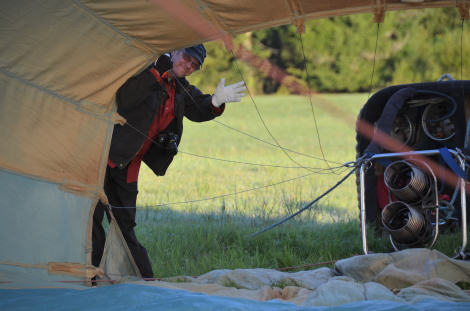 Även Bengt verkade på gott humör ...
Bengt seemed to be in a good mood as well...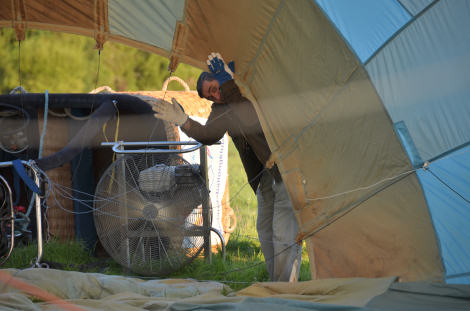 ... liksom Pero.
...as Pero.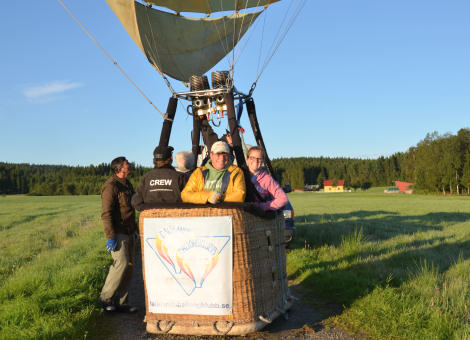 När Kenneth startade brännarna fylldes ballonghöljet med varmare luft och ballongen reste sig upp. Mike och Emma såg glada och förväntansfulla ut inför sin första ballongfärd.
When Kenneth started the burners the envelope filled with warmer air and the balloon righted itself up. Mike and Emma looked excited about their first balloon flight.
"Hej då!"
"Bye!"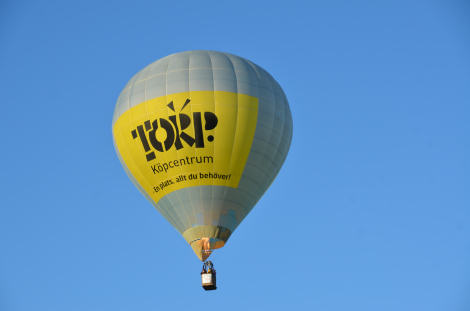 Så svävade ballongen iväg söderut mot Rännelanda.
The balloon floated south on the winds towards Rännelanda.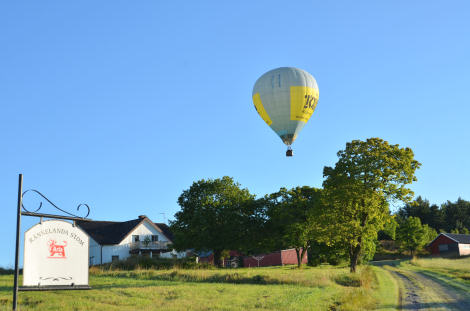 Med cirka tio knops fart tog sig ballongen fram men när den sjönk neråt för mellanlandning vid Rännelanda Stom stod luften nästan helt stilla. Ballongen hängde länge över gården medan kyrkklockorna helt magiskt började att ringa i Rännelanda kyrka.
The balloon travelled with a speed of about 10 knots but when it lowered to stop briefly at Rännelanda Stom the air was almost standing still. It floated for a long time above the farm while the sound of church bells was magically filling the air.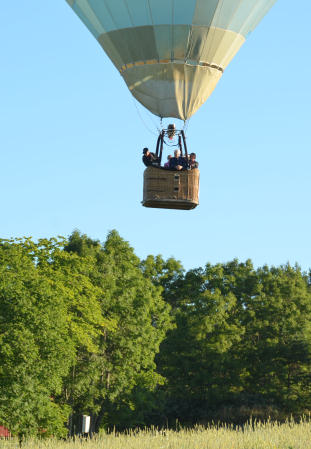 Kenneth såg ut att fundera på om de verkligen skulle komma ner till backen någon gång.
Kenneth seemed to be pondering whether they would ever get down.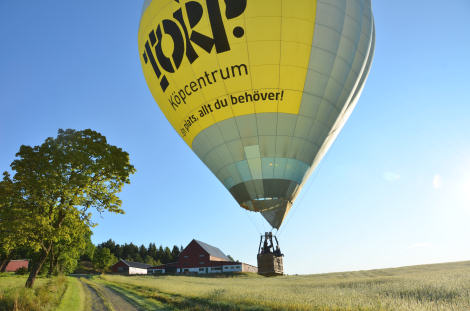 Efter ett tag blev det i alla fall en snygg landning på uppfartsvägen.
After a while they made a nice landing on the driveway.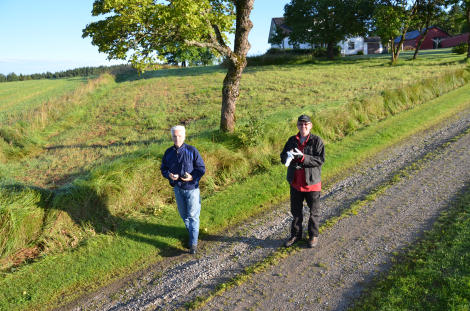 Det blev byte av passagerare i korgen och John och Bengt blev lämnade kvar på backen medan ...
A change of passengers in the basket left John and Bengt on the ground while...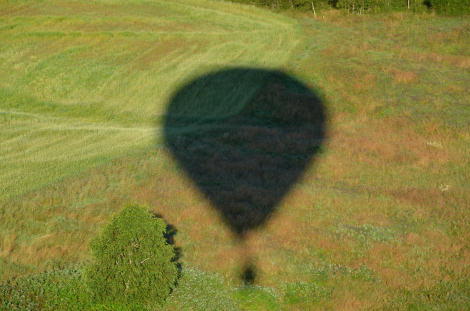 ... ballongen svävade uppåt igen.
...the balloon took to the air again.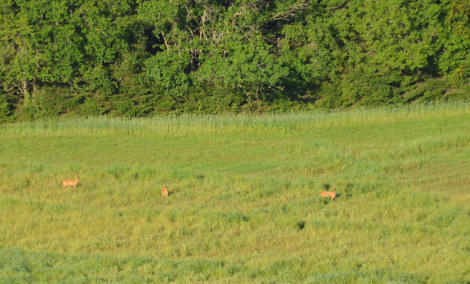 Undrar om rådjuren vant sig vid ballongen nu eller om de fortfarande funderar på vad vi sysslar med.
Wonder if the deer are used to the balloon now or if they're still wondering what we're doing.
Med riktning åt Färgelanda till passerade vi ...
Heading towards Färgelanda we passed...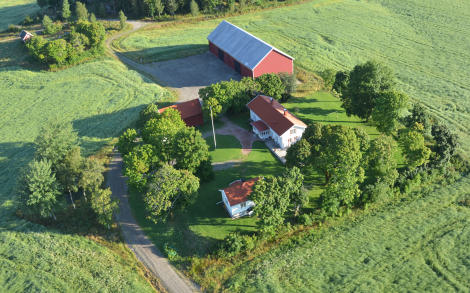 ... rakt över Gillesbyn.
...straight over Gillesbyn.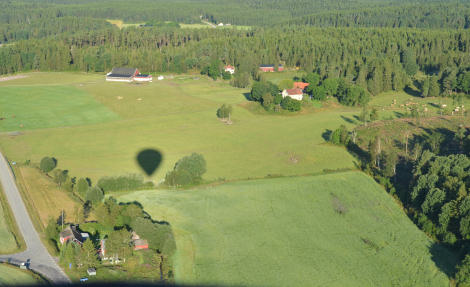 Västerut såg vi gården Lycke.
To the west we saw the farm Lycke.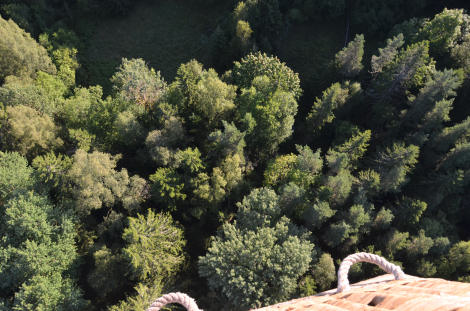 Fast vi inte var särskilt högt uppe så ...
Even though we weren't very high up...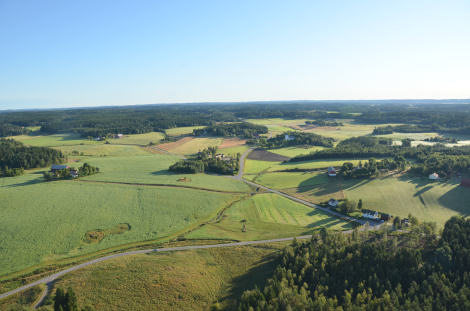 ...  kändes det som vi såg hela Rännelanda.
...it felt like we saw all of Rännelanda.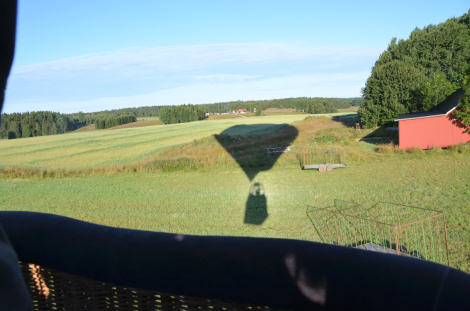 När ballongen kom över några stora fina gärden passade Kenneth på att låta ballongen närma sig marken igen och det blev återigen en fin landning på väg.
When the balloon was over a few nice fields Kenneth took the opportunity to approach the ground again and yet again made a nice landing on a road.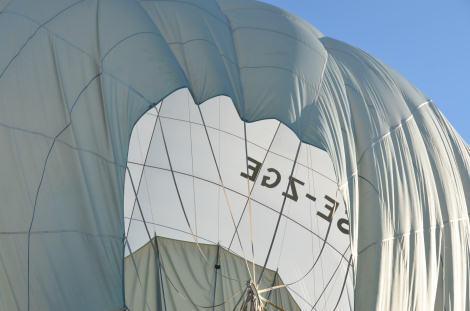 Luckan i toppen på ballongen öppnades och den varma luften strömmade ut. Ballongen lades ner på den torra marken och packades tillbaka in i släpkärran igen.
The "parachute" at the top of the envelope was opened to let the warm air out. The balloon was laid on the dry ground and packed back into the trailer.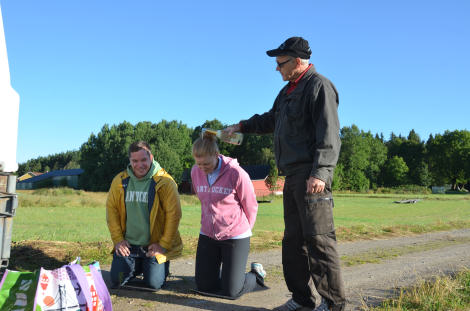 Efter sin första flygning är det tradition att få en titel från den plats där man landat. Kenneth döpte Emma till Markgrevinna av Östby och ...
After your first balloon flight you traditionally receive a title from the place you landed. Kenneth baptized Emma to Markgrevinna av Östby and...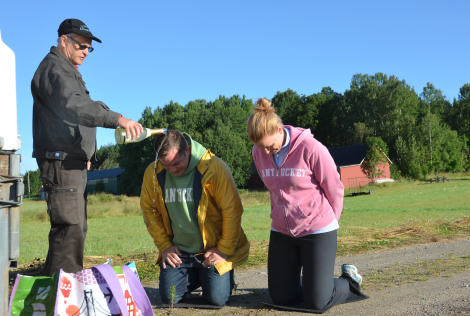 ... Mike kan nu presentera sig som Markgreve av Östby.
...Mike can now call himself Markgreve av Östby.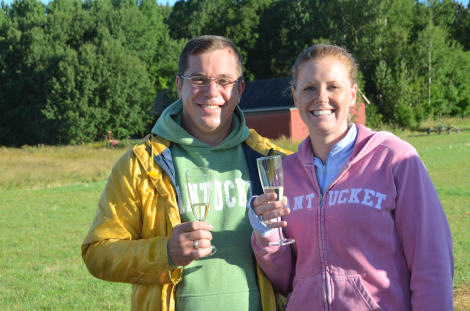 Resten av "champagnen" skålades i med glad min.
A toast with the rest of the "champagne".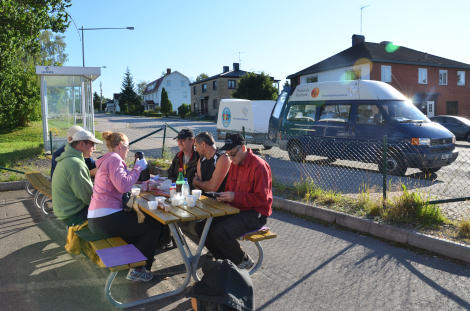 Samtidigt med att vi återsamlades vid torget i Högsäter körde många förbi på väg till jobbet. Inte kunde de väl tro att vi då redan avverkat vår fantastiska resa.
When we gathered back at the square in Högsäter many people drove by on their way to work. But we had already completed our amazing journey.