Flygning 2012-05-01
Bilderna är tagna av Barbro Andersson, Jonas Eriksson och Eva Olsson.
| | |
| --- | --- |
| När | 2012-05-01 |
| Var | Knipa - Torgersbyn |
| Pilot | Kenneth Olsson |
| Crew | 10 |
| Flygtid | 1 timma 40 minuter |
Du kan se flygning i Google Earth eller i Google Map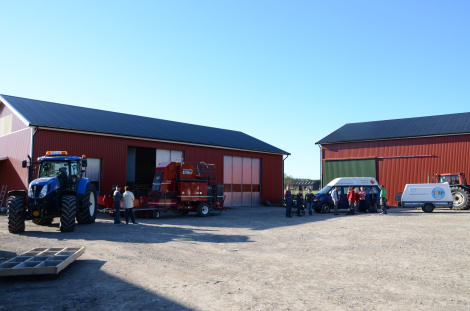 Med vindar som mestadels kom från det ostliga hållet samlades vi hos Jonas på Knipan för att försöka starta därifrån.
With winds mostly coming from the east we gathered at Jonas "på Knipan" to try and start from there.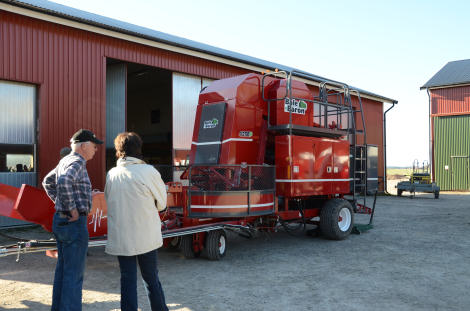 Men först fanns det mycket i maskinparken att inspektera. Inga små maskiner! Denna Bale Baron som kommer från Canada pressar samman flera små höbalar till en lite större bal.
But first there was a lot of machinery to inspect. And not small ones! This Bale Baron from Canada makes bigger hay bales out of small ones.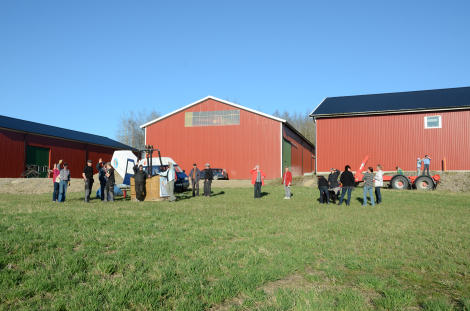 På gärdet bakom byggnaderna började sedan ballongen förberedas för flygning.
On the field behind the buildings the preparations for flying began.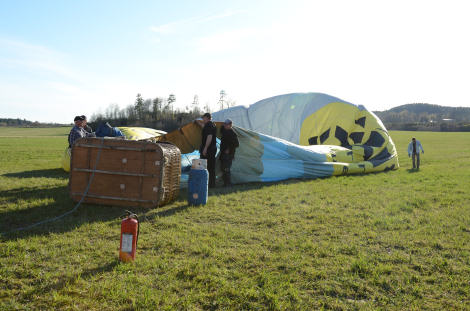 Kallfläkten startades och snart började ballongen ...
The fan was started and soon the balloon...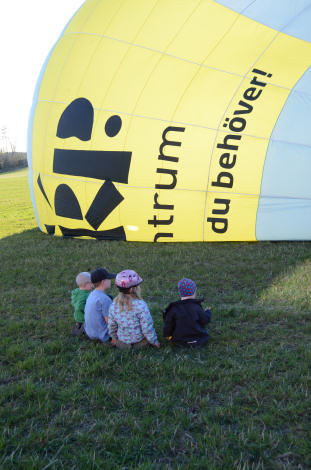 ... få sin runda form. Snart stod ballongen flygklar.
...started to get it's round shape. It didn't take long before it was standing ready to start.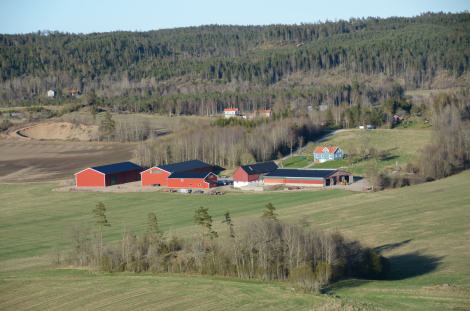 Jonas, Mats, Mark och Lena svävade snart där uppe och såg alla Jonas byggnader bli allt mindre.
Jonas, Mats, Mark and Lena were soon in the air watching Jonas' buildings become smaller and smaller.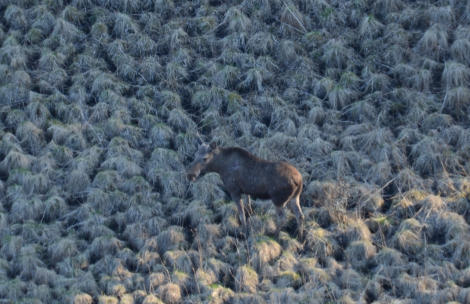 Under flygningen sågs många älgar.
During the flight many mooses were spotted.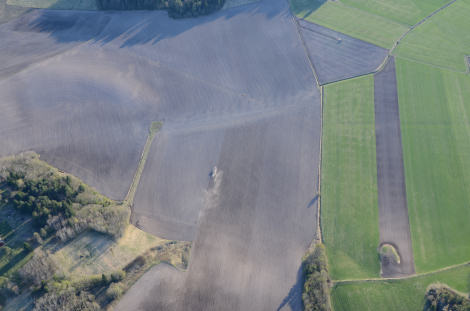 Härliga formationer i naturen.
Wonderful nature formations.
Traktorn hjälpte också till med konstfulla mönster på åkern.
The tractor helped make artful patterns on the field.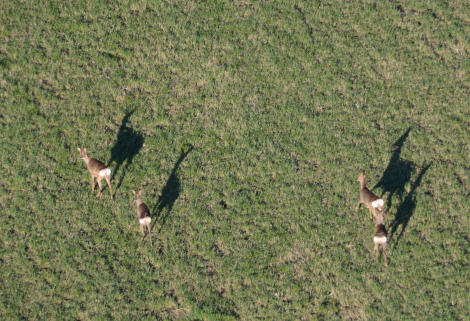 En del rådjur visade sig också.
A few deer showed up too.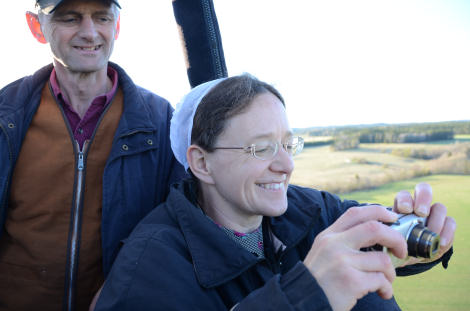 Mycket nytt för Mark och Lena från Canada att titta på och föreviga med kameran.
There was a lot of new things for Mark and Lena, from Canada, to see and take pictures of.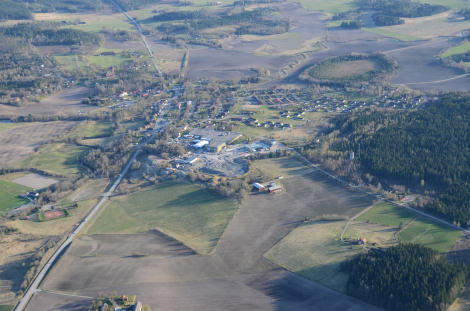 Högsäter bredde ut sig söder om ballongen.
Högsäter could be seen south of the balloon.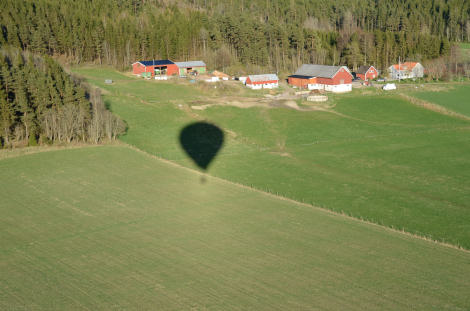 Stilla flög ballongen vidare över det vackra dalsländska landskapet.
Gently the balloon flew on through the beautiful Dalsland area.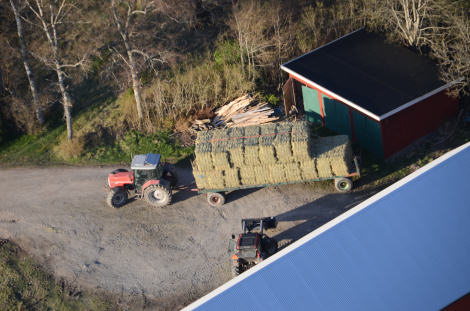 Dessa höbalar hade de tillsammans pressat tidigare under dagen i Östby.
These haybales were made earlier the same day in Östby.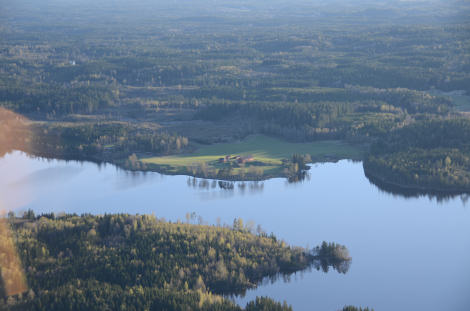 Snart passerades Häresjön ...
Soon the lake Häresjön was passed...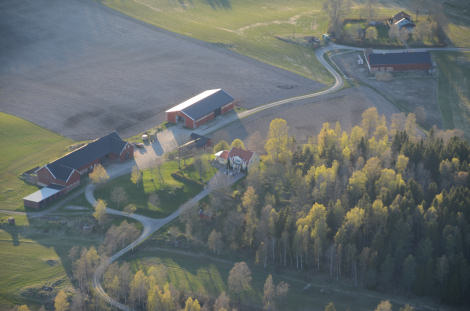 ... och strax intill låg gården Saxtorp.
...and next to it the farm Saxtorp.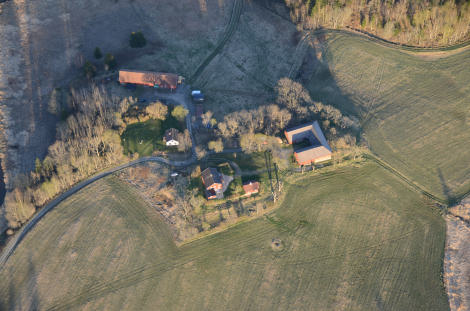 Även klubbmedlemmarna Mats och Tryggves hus passerades.
The house belonging to the club members Mats and Tryggve was also passed by.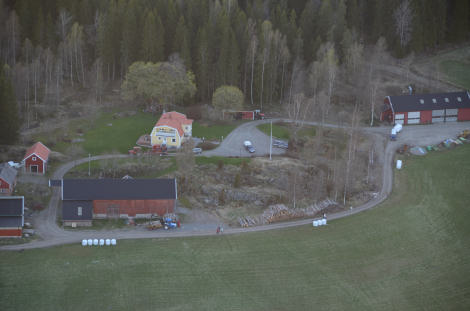 Slutligen kom ballongen fram till det Kenneth utsett till dagens slutmål, Torgersbyn.
Finally the balloon arrived at the goal Kenneth had set for the day, Torgersbyn.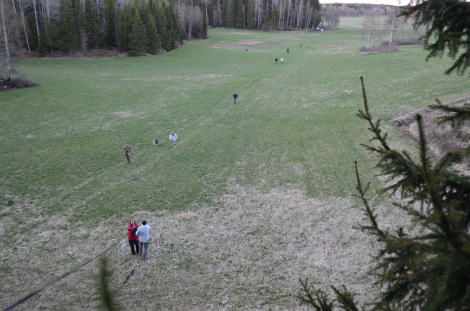 Kenneth fick det sista hjälp från backen och ballongen drogs med ett rep fram ur skogen och ut på gärdet.
Kenneth received some assistance from the ground and the balloon was pulled out of the woods and onto the field.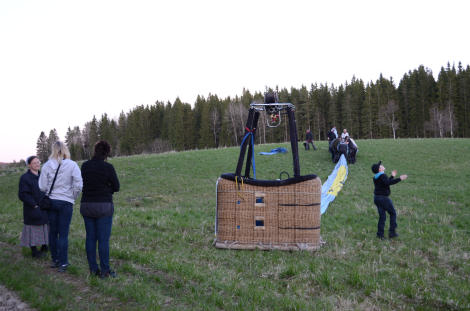 Raskt packades ballongen ihop igen.
The balloon was quickly packed again.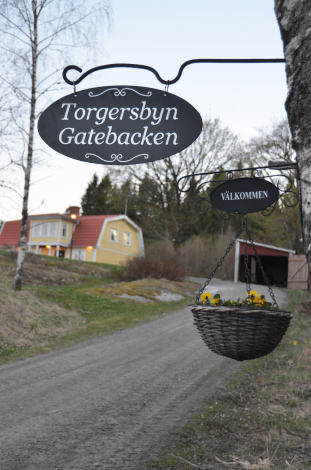 Vi kände oss verkligen välkomna!
We felt very welcome!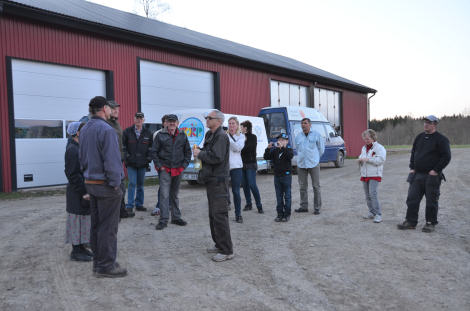 En riktigt stor skara samlades på gårdsplanen och ...
A quite large crowd gathered and...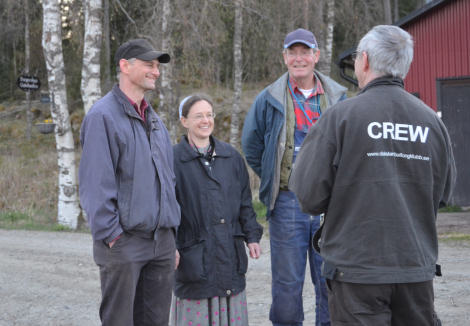 ... Mark, Lena och Mats som nu flugit för första gången fick höra Kenneth berätta om de första ballongäventyren år 1783 i Frankrike.
...Mark, Lena and Mats who had now flown for the first time got to hear Kenneth tell them about the very first ballooning adventure in the year 1783 in France.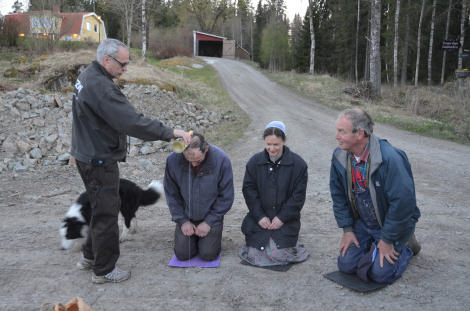 Markgreve av Torgersbyn och Markgevinna av Torgersbyn blev deras nya titlar.
Landcount of Torgersbyn and Landcountess of Torgersbyn became their new titles.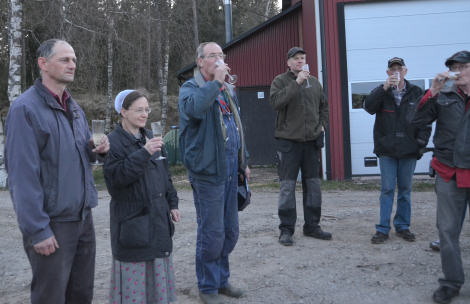 De nya aeronauterna hälsades välkomna med en skål.
The new aeronauts were welcomed with a toast.