Flygning 2013-06-27
Bilderna är tagna av Becs Finbow, Cathy Finbow, Trevor Finbow och Eva Olsson.
| | |
| --- | --- |
| När | 2013-06-27 |
| Var | Amenäs - Fröland |
| Pilot | Kenneth Olsson |
| Crew | 10 |
| Flygtid | 40 minuter |
Du kan se flygning i Google Earth eller i Google Map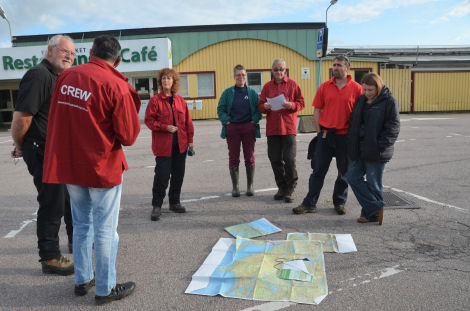 Kvällens samling blev vid Blomsterlandet i Uddevalla. Väderballong (heliumfylld ballong som släpps iväg och visar vindens riktning och fart) och karta studerades. Planeringen var att försöka flyga över Skeppsviken där det var veteranbilsträff samt centrala Uddevalla där affärerna hade extra kvällsöppet. 
This evening the gathering was at Blomsterlandet in Uddevalla. Weatherballoon (small balloon filled with helium released to show the wind direction and speed) and map was studied. The plan was to try to fly over Skeppsviken where there was a veteran car meeting and central Uddevalla where the shops had extra long opening hours.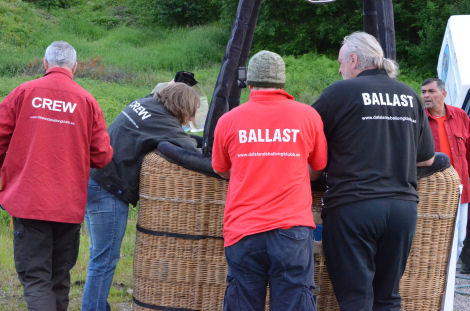 Vi begav oss till Amenäs och snart hjälptes alla åt med startförberedelserna. Stundtals kändes det som det myllrade av alla olika röda och svarta ryggar med olika "befattningar", alla med reklam för vår fina hemsida.
We went to Amenäs and soon everyone was helping with the preparations for launch. There were quite a few different red and black backs with different "positions", all of them advertising our nice website.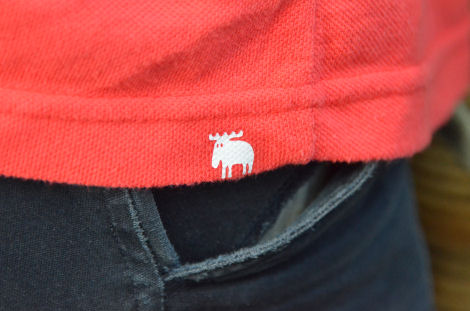 Vissa tröjor med någon extra detalj på.
Some tops had extra details.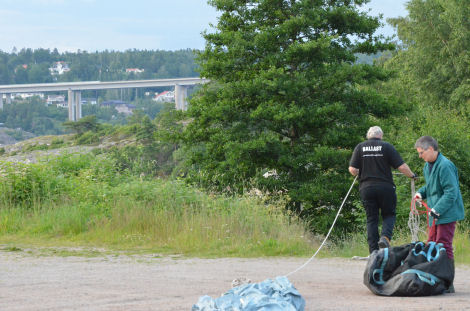 Ballonghöljet plockades fram ur sin säck. I bakgrunden syns ett av brofästena till Uddevallabron som vi var i närheten av.
The balloon envelope was taken out of it's sack. In the background you can see part of Uddevalla bridge that we were near.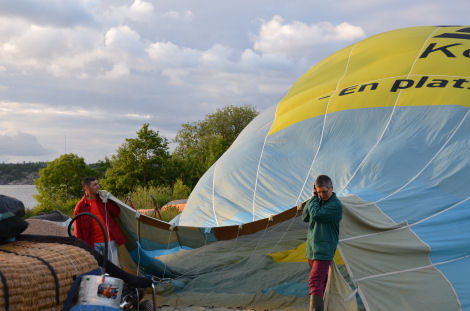 Mynningen hölls upp av Pero och Barbara så att ballonghöljet skulle kunna fyllas med luft och ...
Pero and Barbara made sure the envelope could be filled with air and...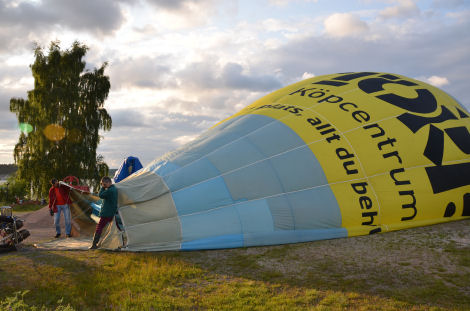 ... snart växte ballongens runda form i solskenet.
...soon the balloon started assuming it's round shape in the sun.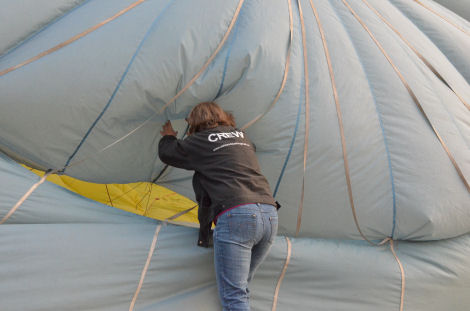 Eva kikade in vid toppen av ballongen och ...
Eva had a peek in the top of the balloon and...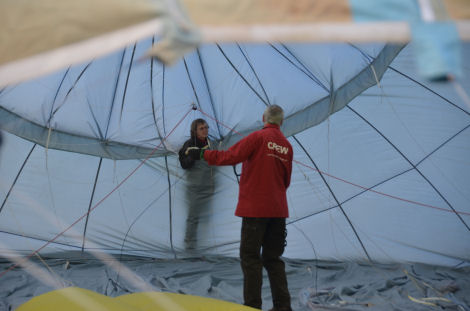 ... hon och Kenneth tittade efter att alla linor med mera fanns på sina rätta platser.
... she and Kenneth made sure all the ropes etc were in the right places.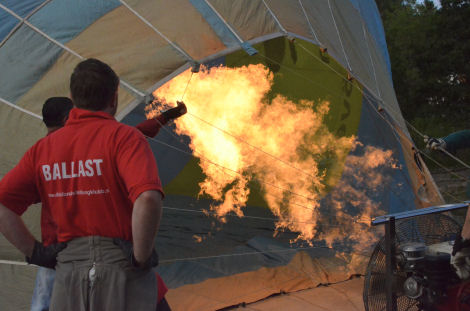 Så blev det dags för Kenneth att börja använda brännaren och värma upp luften inne i ballonghöljet. När vi flyger brukar luften inne i ballonghöljet vara cirka 75 grader varmare än yttertemperaturen.
Then it was time for Kenneth to start using the burners to warm up the air in the balloon envelope. When we're flying the air inside the balloon envelope is normally around 75 degrees celsius warmer than the surrounding air.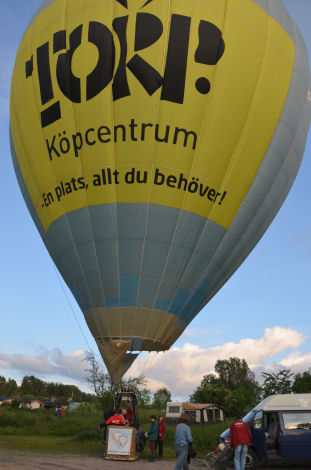 Varm luft stiger! Så snart stod ballongen upp redo för att ta sig ännu högre upp.
Warm air goes up! Soon the balloon was standing up and ready to go even higher.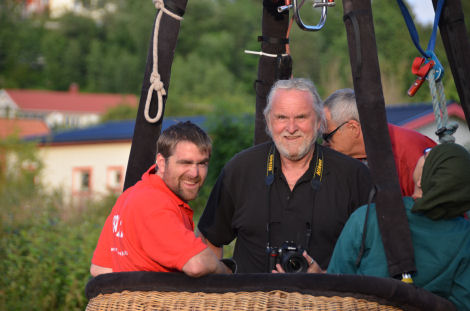 Tillsammans med Barbara klättrade Thomas och Trevor i korgen och förberedde sig glatt inför kvällens lyft.
Thomas and Trevor climbed into the basket together with Barbara and happily prepared themselves for the evening's flight.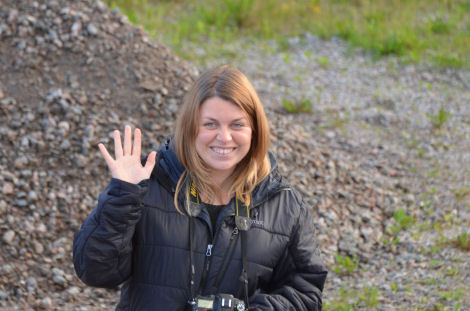 Kvar på marken lämnade de Becs och ...
They left Becs on the ground and...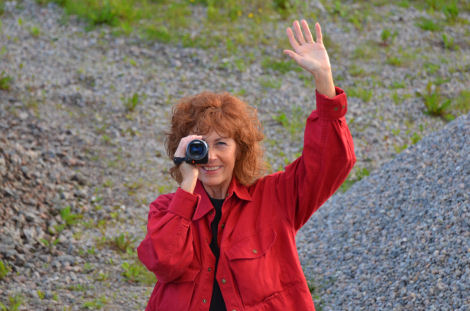 ... Cathy med flera som glatt vinkade hej då.
... Cathy and others who cheerfully waved farewell.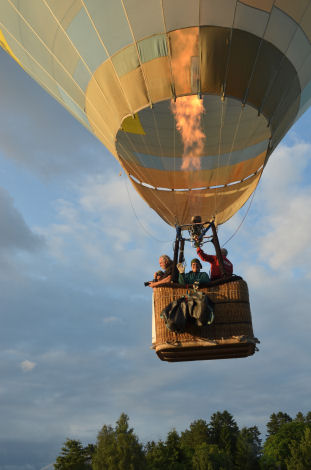 Så lämnade de backen och ...
They left the ground and...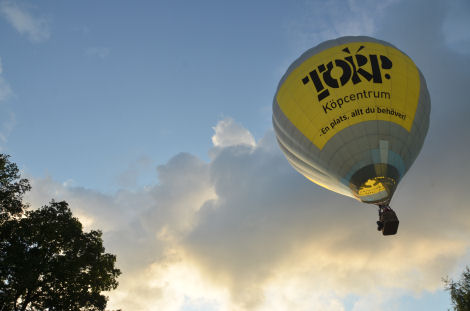 ... lyfte allt högre och högre och seglade iväg i lufthavet.
... went higher and higher and sailed off into the air.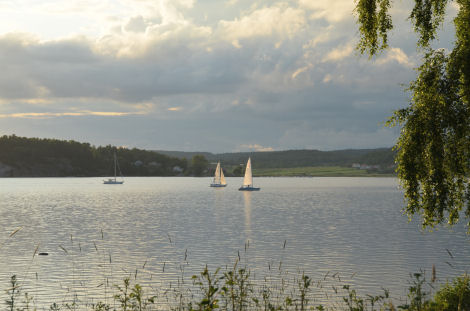 På vattnet intill sågs gott om segelbåtar som var på väg in mot Uddevalla.
Many boats sailing towards Uddevalla could be seen nearby.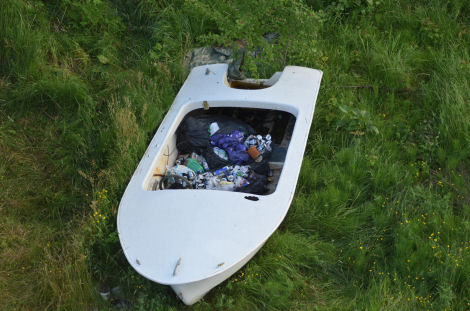 Från ballongen sågs många olika sorters båtar. Denna båt kändes bra att den blivit kvar på land, i alla fall om det var båtföraren som druckit ur alla de tomma ölburkarna som fanns i båten.
Many different kinds of boats could be seen from the balloon. This particular boat seemed best left on land, at least if it was the boatdriver who had drunk from all the empty beer bottles left in the boat.
Kajaken smög sig ljudlöst fram.
The kayak was moving without making any sounds at all.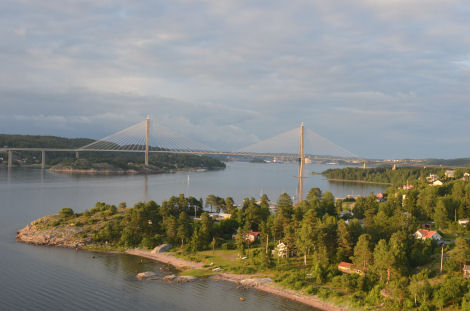 Förutom allt annat vackert att se på så dominerade Uddevallabron stort.
Apart from all other beautiful things to look at, Uddevalla bridge dominated the scenery.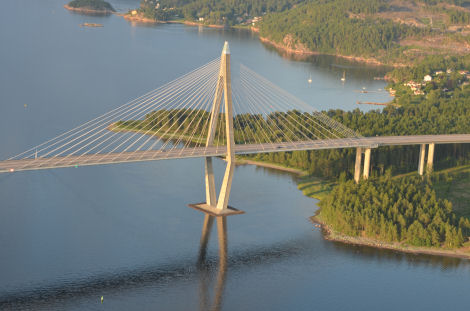 För visst är den vacker att se på!
Isn't it beautiful!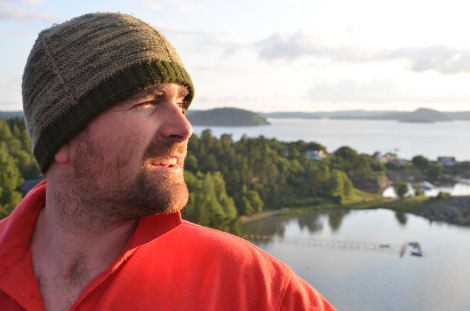 Thomas såg ut att njuta för fullt.
Thomas seemed to fully enjoy the moment.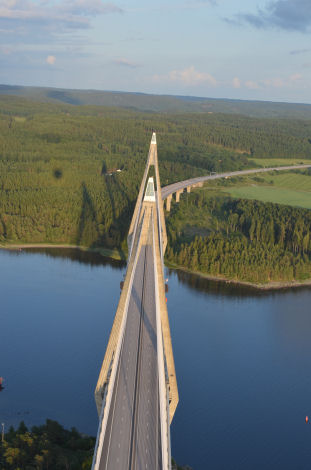 Ballongen passerade över bron.
The balloon passed over the bridge.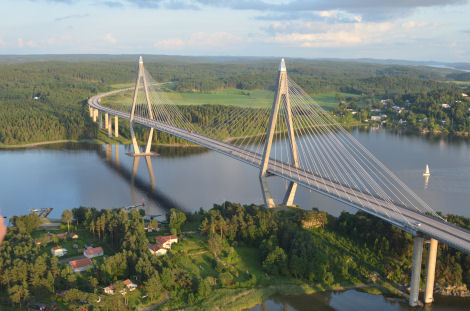 Vindarna ville inte riktigt föra ballongen in över centrala Uddevalla denna kväll utan det verkade mera som ballongen längtade åt TORP-hållet.
The winds didn't quite seem to want to bring the balloon over central Uddevalla this evening. Instead it seemed the balloon was longing for TORP.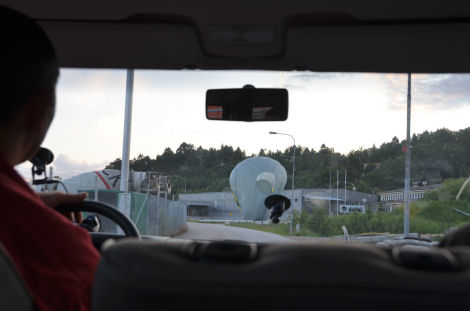 Snart rapporterades till följebilen om landning och den närmade sig just som ballongen höll på att lägga sig ner.
Soon reports were made to the following car that the balloon was landing and the car approached just as the balloon was settling to the ground.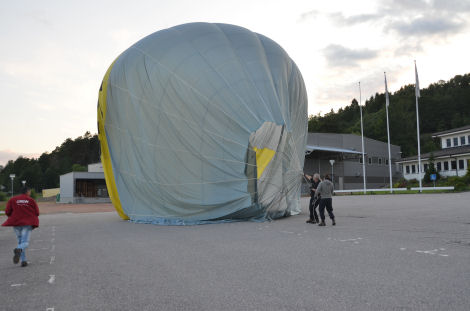 Kenneth hade hittat en fin parkeringsyta att packa ballongen på.
Kenneth had found a nice parking area to pack the balloon on.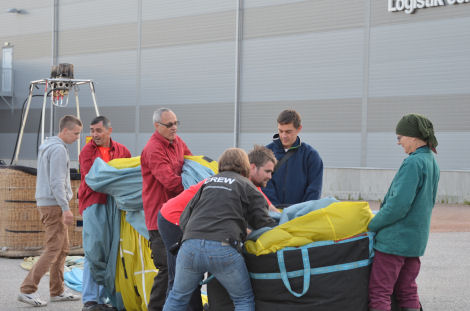 Med alla hjälpsamma händer var snart ballonghöljet tömt på luft och på väg tillbaka ner i säcken igen ...
With all these helpful hands the envelope was soon emptied of air and on it's way back into the sack...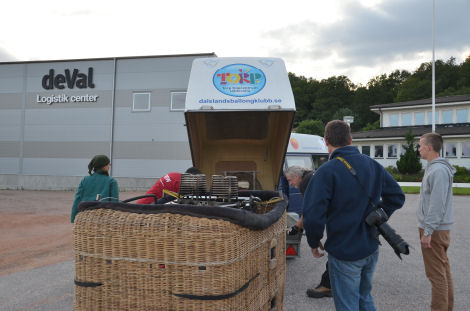 ... och snabbt packades allt in i släpkärran. Det diskuterades kring att göra en ny start för att låta alla nattsuddare i centrala Uddevalla få se den vackra ballongen.
... and everything was quickly packed into the trailer. It was discussed whether to start again to let all the late visitors in central Uddevalla see the beautiful balloon.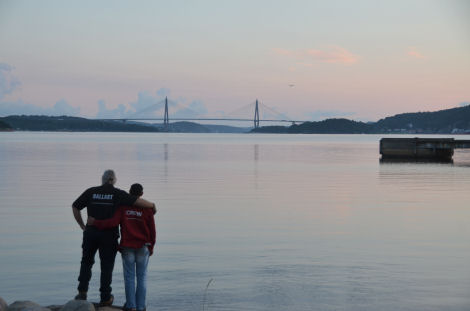 Vi åkte till Skeppsviken till en lämplig startplats men efter ytterligare diskussioner avstyrdes planerna på ytterligare en flygning denna kväll. Istället passade vi på att njuta lite extra av den fina utsikten från marken.
We went to Skeppsviken to a suitable launch site but after more discussions decided against flying again this evening. Instead we enjoyed the lovely view from the ground.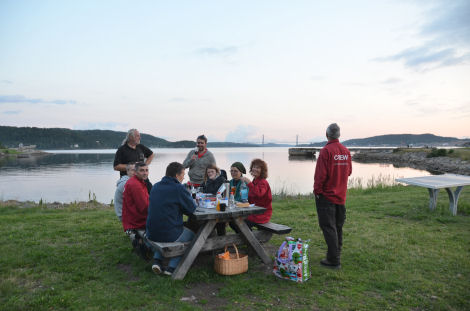 Givetvis passade vi även på att få en gemytlig fikastund som en härlig avslutning på denna fina kväll.
Naturally we took the opportunity to have coffee and snacks to round off a nice evening.